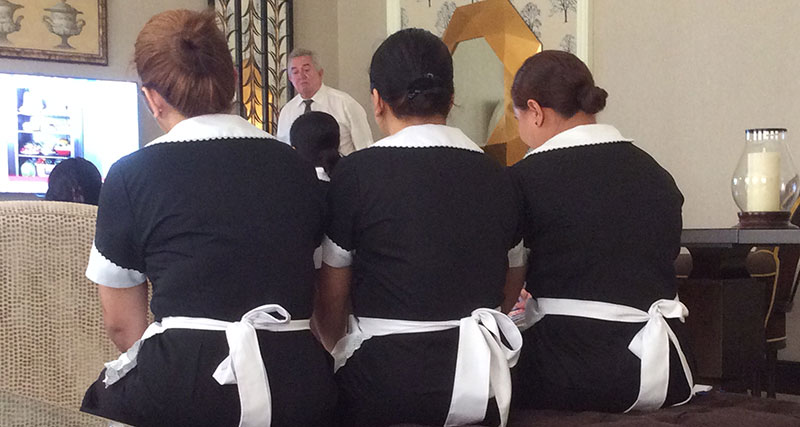 What do we do at The London Academy for Household Staff?
We offer training in a variety of ways, which can be adapted to suit the needs of the client, the staff and the establishment. 
Our Butler and Housekeeper Courses offer traditional household and personal service training with top standards as our priority. These courses work on developing the core basic skills of a Butler and Housekeeper, and are suitable for people who are new to working in a private household, or those who wish to validate, refresh and update their skills. Courses work at a Core Skill Level or Advanced Level. Certificates are awarded on merit, at the tutor's discretion.
Management of a Household or Other Establishment
Management sessions are run on a one-to-one basis, and focus on running an establishment smoothly with minimum fuss and maximum efficiency. Tailored to suit the student and the environment in which they are working, topics can include communication, systems and accountability, roles and responsibilities, management styles, employing and retaining staff, event planning and problem solving. For more information, please contact us.
Skills Sessions
Skills Sessions are one-to-one tutoring sessions designed for people wanting training to meet their individual requirements and timescales. The training is designed for those wanting to enhance their skills, for example as Butler, Valet, Housekeeper, Household Manager or Lady's maid. The programme contains a mutually agreed content and skills "check list". The training is charged by the hour, to suit you, so it can be as long as needed to fulfil its purpose, from one hour to four hours. For more information, please contact us.
We offer bespoke tailor-made training for staff in their own work locations, worldwide. Bespoke training can be designed for any employer who wishes to enhance the professionalism and skills of their employees. Training is geared absolutely to meet the client's specific needs and can cover any relevant household topic, from organisation of the wardrobe to managing a shooting weekend. Our tutors are all professionals with extensive training expertise and experience. They will visit the workplace, consult with clients and staff and can write a comprehensive report on their visit with suggestions for how to establish best practice according to the client's needs. This is an excellent option for those who have taken on new staff, or perhaps if you have moved to a different property or have multiple properties where systems and standards need to be implemented across the board.